We are always looking for talented and qualified people to join our team at Coastal Engineering & Surveying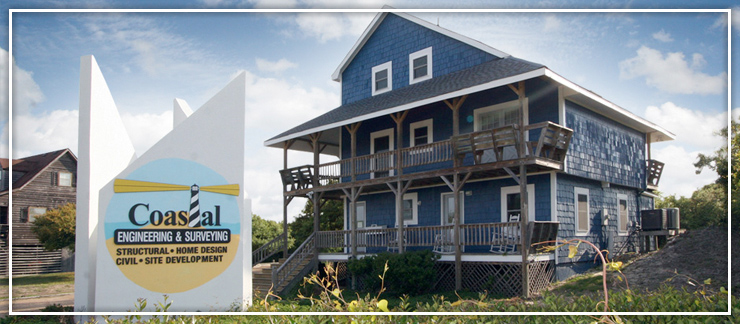 At Coastal Engineering & Surveying, we provide our employees with a encouraging and positive working environment in Kitty Hawk, North Carolina. Coastal Engineering & Surveying is proud of it's high retention rate, as many of our employees have grown and remained with Coastal Engineering & Surveying for decades.
Current Openings:
Civil Engineer
Coastal Engineering & Surveying, Inc (CE&S) is currently looking to fill a full-time mid-level Civil Engineer position. CE&S is a full service Civil, Structural, Geotechnical Engineering, Land Surveying, Building Design, Construction Management and Building Contracting firm located in Kitty Hawk, the Outer Banks of North Carolina. We have been in business for 31 years serving northeastern North Carolina & beyond. The candidate should be a dedicated and creative individual that is interested in tackling projects or willing to learn how to develop feasible, resourceful, and sustainable solutions for the needs of our clients and our communities. This position will involve participating in a broad variety of civil assignments including planning, residential and commercial site development, municipal design, sanitary/septic and storm sewer design, roadway design, and work on other civil design projects for public and private sector clients. The candidate will support and drive the development of projects, interact, and work with varying departments and team members.
CE&S encourages a relaxed work environment just two short blocks from the beach. Pay is reflective of experience. Full benefits. Excellent potential for growth and ownership.
Job Duties and Responsibilities:
· Designs civil engineering projects of wide variety; residential to commercial.
– Designs include planning, site layout, grading, stormwater, water and sewer lines, pumps and lift stations, and roadway design.
· Prepares construction documents, plans and specifications.
· Coordinates and /or manages project presentations to government boards and private clients.
· Act as a Project Engineer/Manager for private and municipal work for inspections and Quality Assurance.
· Conducts site visits to document conditions and assists in the completion of inspection and assessment reports.
· Informs and coordinates with Management, Project Managers, and other team members of workload and any changes to project scope or additional services.
· Uses computer assisted software and equipment for engineering design and drafting to prepare calculation packages and design drawings.
· Plans, designs, constructs and/or maintains structures and facilities that provide shelter, support transportation systems and control natural resources.
· Completes site inspections for stormwater concerns and remediation.
· Evaluates; selects; and applies standard engineering techniques, procedures, and criteria, using judgment in making some substantial engineering adaptations and modifications to assigned projects.
· Serves as a technical consultant concerning facilities planning, design, construction and/or maintenance for different categories of facilities.
· Determines resources and performs long-range or phased planning.
· Reviews consultant-prepared design drawings to indicate basic design corrections, prepares technical specifications, and reviews engineering plans for compliance with numerous regulatory acts.
· Assists in the evaluation of contract bids.
– Makes recommendations to other engineers regarding feasibility studies.
– Assists in the management of large-scale construction projects.
· Assists with Marketing.
Skills & Qualifications:
• B.S. in Civil Engineering from an accredited four-year university; Masters preferred but not required.
• Current NC Professional Engineering license. Candidates in the process of obtaining licensure will be considered.
• Understanding of surveying principles; surveying field experience a plus.
• Minimum 3 years of experience.
• Experienced in AutoCAD, Civil 3D or alike, Adobe and Office, and drafting construction documents.
• Excellent written and verbal communication skills.
• Ability to work in a team environment and willingness to preform new engineering tasks
• Ability to communicate effectively with clients, coworkers, sub consultants, Federal/State/County agencies review and permitting staff.
• Ability or willing ness to present projects to councils, planning boards or review committees.
• Understanding of the principles of structural engineering a plus.
Please email resume to be added on file: jalene@coastales.com or you may fax it to (252) 261-1333.
You may also drop it off at our office located at 4425 N. Croatan Highway, Kitty Hawk at MP 3 on HWY 158.
We hire skilled professionals who continue our mission to provide superior engineering and surveying services.
Careers at Coastal Engineering & Surveying offers a competitive benefits package, including:
Medical and Prescription Plan
Dental Plan
Eye Care Benefit
Life and Disability Insurance
401K
Vacation/Personal/Sick Days
Holiday Pay